MyBTC.ca has now added the ability for you to buy Bitcoin on with Interac e-Transfer which is offered by almost all Canadian banks & credit unions.
How can I buy Bitcoin with Interac e-Transfer today?
Step 1. On the homepage select "Buy Now" under the Interac e-Transfer payment option to start the account and order creation process.
Step 2. Enter your profile information and then complete any 2 methods of identity verification presented on the verification page. If you have already completed 2 methods of identity verification then skip to the next step.
Step 3. If you have a balance you will be able to complete the transaction that same instant. If you do not have a balance, start the account funding process by requesting the Interac e-Transfer instructions to be emailed to you.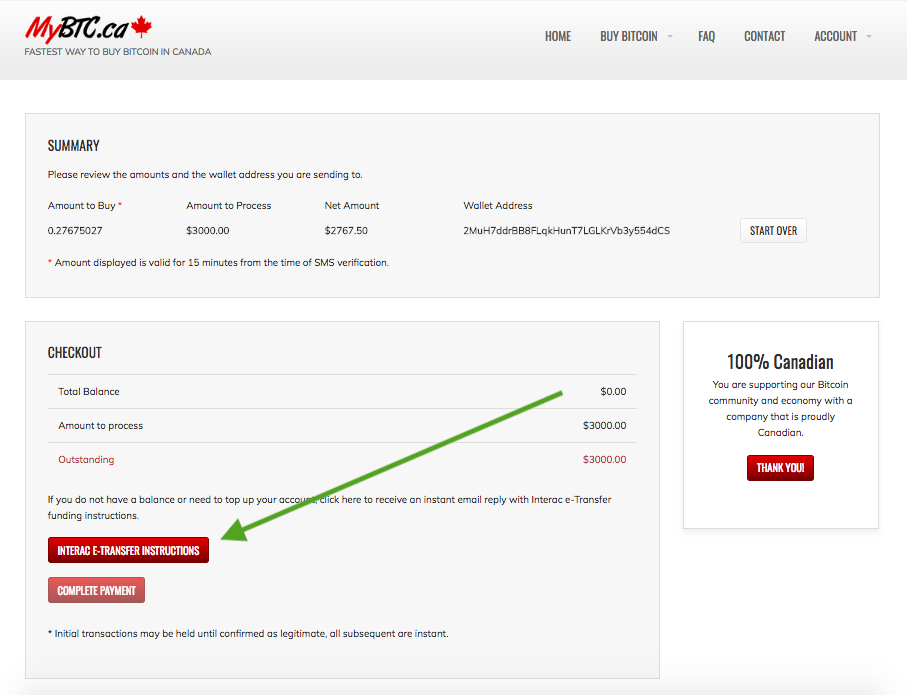 Step 4. After you have sent the Interac e-Transfer, following the special instructions they provide, it will take approximately 1-2 hours (up to 12 hours in rare instances) for compliance to review and their payment processor to deposit. Once the funds have been added to your account balance you will receive an email notification advising you to create a new order and instantly complete the transaction for your Bitcoin.
If you only pass 1 of 2 verification methods, the next best solution is to buy Bitcoin using Interac Online or Flexepin vouchers.
Interac Online is only compatible with client cards without a Visa/MasterCard logo on them. Therefore, Interac Online still works with older TD client cards and those issued by numerous participating credit unions featured on this page: http://interac.ca/en/interac-online-consumer.html
You can purchase Flexepin vouchers online at TopMeUp.ca with Interac e-Transfer or Visa/MasterCard debit to redeem on MyBTC.ca for Bitcoin.
You may also purchase Flexepin vouchers at any Canadian Tire Gas bar, Hasty Market, Daisy Mart or at 4,000+ other locations nationwide. Locate the nearest Flexepin retailer here: https://mybtc.ca/flexepin-voucher-purchase-locations